The moment I started researching the transformations of biomass I decided I wanted to do a PhD about it. Even though it is an emerging sector I can see a bright future for the biobased industry.
Why am I doing this?
Since I was in high school, I knew that I wanted to be part of something big, I wanted to help bring change into our lives. That is when I decided I wanted to be a researcher. At first, I wanted to do something related to medicine, like finding a cure for cancer or Alzheimer's or something along those lines. In fact, I got myself involved with the biomass world quite by chance. Nonetheless, ever since I stepped a foot in this universe I never wanted to leave. I found my passion. I want to help the environment. There is so much work that can be done here. That is what pushed me towards looking for a PhD related to catalytic transformations of biomass.
My life as a PhD student
I am not going to lie, studying a PhD has its ups and downs. There are days when things go according to plan, the results seem promising and there are no surprises. However, those days are difficult to find. Most days experiments do not work, the good results are impossible to replicate, and you end up with dead ends all around you. It is frustrating and hard. You feel like you are wasting your time, that your project has no future, and you want to quit. It is not a life for everyone. However, in my case, it is worth it. Even though things are hard, they are not impossible. Thanks to the difficulties, I have become more creative, I have learned to see things from a different perspective and to deal with frustration. Furthermore, the unpredictable results always keep me on my toes helping chase away boredom. I like the challenge I face at work, but what I love the most is that I can see how useful my research can be. It is a great reason to keep moving forward.
The future of biobased industry
People nowadays are more aware of the danger of our way of life; however, it is not easy to change our lifestyle, there are some commodities we can't live without anymore. While people are more eco-friendly lately, not many are willing to pay higher prices for greener products, some cannot even afford it. I believe that is the biggest challenge for biobased industry, to be economically competitive to the current industry. It is not an easy feat to achieve, nonetheless I think it is possible. This emerging sector is attracting more and more attention with each passing year allowing the possibility of a brighter and more sustainable future.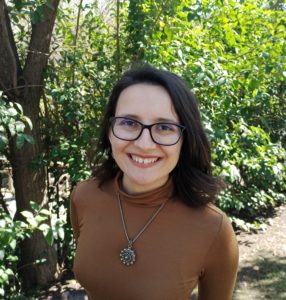 Irene Martínez Salazar is conducting her PhD research at the Institute of Catalysis and Petrochemistry of the Spanish Council for Scientific Research (ICP-CSIC). As a doctoral student, she is focusing on the synthesis of monomers from biomass-derived furfural.