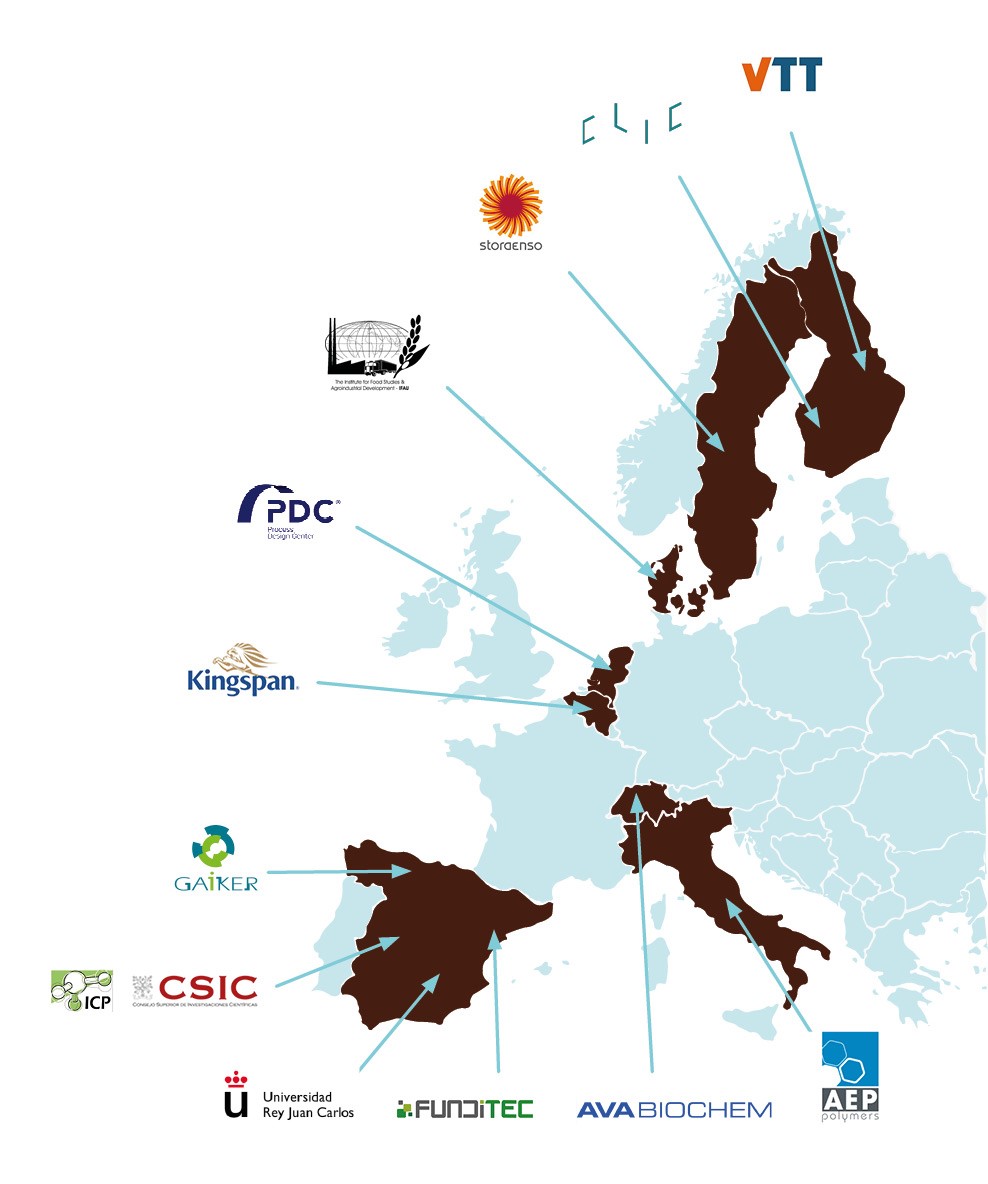 The Spanish National Research Council (CSIC) is Spain's largest public research institution and ranks third among Europe's largest research organizations. Attached to the Spanish Ministry of Science and Innovation, the CSIC plays a key role in scientific and technological policy in Spain and worldwide. The CSIC annual budget is around 700 MEUR and has more than 10 000 employees, including nearly 4 000 staff researchers. The CSIC supports research and training across a wide range of knowledge, from the most basic or fundamental aspects of science to the most sophisticated technological developments.
Main tasks in the project are project coordination, fractionation of lignocellulosic biomass, hemicellulose sugar transformation to furfural, furfural oxidation to C4 acids and furfural transformation to 1,5 pentanediol.
Stora Enso is a leading global provider of renewable solutions in packaging, biomaterials, wooden construction and paper. Their innovation strategy and sustainability commitment have turned them into one of the front runners of the new bioeconomy, expanding their portfolio to include new bio-based materials and chemicals for many applications, making the most out of biomass. As a result, Stora Enso is investing in bringing new sustainable materials based on lignin to the market. The focus is on biomaterials and biochemicals for binders, carbon fiber, and energy storage, which provide a highly attractive innovation platform. Stora Enso will help understand the pulping processes – including novel organosolv process conditions and product property relationships – and explore the possibilities to improve the techno-economic performance of the GLV fractionation process via extensive use of its internal experts.
Kingspan Insulation NV is part of Kingspan Insulation Continental Europe (KICE), which is part of the worldwide insulation division of Kingspan Group. The insulation materials are based on polyurethane (PIR and PUR), Phenolic (PF) and Polystyrene (EPS and XPS). Kingspan Group revenue in 2018 was €4.4 billion. KICE's focus is on building insulation boards based on PIR (three factories in Europe) and PF (two factories in Europe) and on technical insulation PUR/PIR/PF blockfoam in Turnhout.
Kingspan's role in the project is twofold. Evaluation of lignin fractions in resin synthesis (LPF resins) – modification of the synthesis in function of the lignin fractions and evaluation of LPF resins in foam synthesis formulations  – lab formulation development, which is defining the right type of additives and their optimized level to produce a foam meeting the requirements of the process and the market.
AEP Polymers is an R&D company based in Italy, that develops bio-based building blocks and formulations for industrial applications in funded projects and consulting activities. Although a small company, AEP's revenue model is based on the development of innovative IP and licensing of commercial rights for the products. AEP is partner in industrial cooperation agreements with large chemical manufacturers, for providing new structures, exploitation routes and technical support for new product sales.
AEP's main tasks in project are in WP2 by developing bio-based polyols and acrylics starting from succinic acid and bio-based glycols and validating the developed materials as reactive ingredients in polyurethane and acrylic formulations. AEP will maximise the bio-based content of the formulated systems to exploit the sustainability aspect of these new materials and will benchmark the results against commercially available and state of the art materials."
AVA Biochem AG is the global leader in the industrial production and sale of the bio-based platform chemical 5- Hydroxymethylfurfural (5-HMF), a renewable and non-toxic alternative to a range of petroleum-based materials. 5-HMF has a broad range of applications in the chemical, pharmaceutical and food industries. Since 2014 AVA Biochem has been producing high-purity 5-HMF for research purposes and specialty chemicals markets, as well as technical-grade 5-HMF for bulk chemistry applications. AVA Biochem's own R&D department also develops the downstream chemistry of 5-HMF and thus opens the door to bio-based furan chemistry on an industrial scale. The main task of AVA in the project is participating in the validation of ketoses containing fructose as a new input for 5-HMF and FDCA production in WP3.
GAIKER is a Spanish Technology Centre devoted to the up-take of knowledge and to the development of new technologies that are later transferred to industrial customers. Founded in 1985, the Centre has carried out close to 1.500 R&D projects related to its knowledge areas: Biotechnology and Polymers and Composites. The department of Sustainable Composites & Functional Polymers at GAIKER has a team working in biobased materials with wide experience in synthesis, formulation, transformation and characterisation of polymeric solutions, including coatings, adhesives and packaging products. In the project the main tasks are in two different roles; leading WP2 and work in synthesising poly(alkylene succinate) oligomers and polymers from bio-succinic acid to formulate and characterise thermoplastic and adhesive or coatings materials as proof-of-principle value chain for food and cosmetic packaging solutions. In WP5 GAIKER will focus on end-of-life, LCA and LCC for key processes, products and value chains.
Universidad Rey Juan Carlos (URJC) was founded in 1996 with the main objective of offering high quality education accompanied by scientific excellence. URJC fosters participation and close partnership with industrial and economic sectors, in education, research and development. The university has approximately 50.000 students from over 100 countries, and 2.000 staff (academic and administrative personnel). The promotion of R&D&I activities in URJC is carried out through collaborations with companies and institutions, and participation in national and international calls that allow researchers to develop their research lines contributing to the generation, expansion and dissemination of knowledge, and the advancement of science and technology. URJC has significant experience providing administrative and managerial support for European projects through its Research Services department, who is in charge of promoting and managing joint research projects between the University and industry, including European Projects.
URJC Team researchers are affiliated to the Chemical and Environmental Engineering Group (GIQA, www.giqa.es), a group with a strong background in renewable and clean energy; environment, resources and sustainability; green technologies and valorisation of biomass feedstock and wastes. In particular, URJC Team is headed by Dr. Jose Iglesias, who has a wide experience in the development of new synthetic routes for the valorisation of biomass feedstock, through chemocatalytic reaction pathways, mainly using zeolite and mesostructured material-based heterogeneous multifunctional catalytic systems. Together with Dr. Jovita Moreno (expert in the design of catalytic processes and their evaluation by LCA and exergoeconomic tools) and Dr. Alicia García (with a wide expertise in heterogeneous catalytic systems and their application in green and fine chemistry processes like sustainable transformation of biomass to bioproducts), they coordinate the research activities of the URJC Team within Fraction Project. URJC Team has different reactors to test their heterogeneous catalysts and numerous facilities for their characterization (XRD, XRF, SEM, RD TEM, UV-vis, ICP-OES) and the assessment of catalytic activity (GC-MS, GC-FID, HPLC-DAD&RI&ELS). Likewise, URJC Team has a strong background in processes simulation and their analysis by LCA methodology, counting on several specific software licenses for these purposes.
The main tasks of URJC in FRACTION are:
Workpackage 3. URJC's role within this WP is as leader, also participating in the valorization of C5/C6 sugar monosaccharide streams coming from the hydrolysis of the hemicellulose fraction, to lactic acid/alkyl lactates through selective chemo catalytic pathways, and the production of ketoses used in 5-HMF synthesis. Workpackage 5. URJC team also participates within WP5 conducting Life Cycle Analysisof several of the processes do be developed within the FRACTION project.
VTT Technical Research Centre of Finland Ltd is a visionary research, development and innovation partner. VTT is a RTO whose activities are focused on three areas: carbon neutral solutions, sustainable products and materials, and digital technologies. VTT is impact-driven and takes advantage from its wide multitechnological knowledge base to strengthen Finnish and European industrial competitiveness. VTT can combine different technologies, produce information, upgrade technology knowledge, and create business intelligence and value added for its stakeholders. VTT has a staff of 2.103, net turnover in 2020 was 148,9M€ and other operational incomes were 95,5M€, and it is owned by state and controlled as non-profit limited liability company and it is operating under the ownership steering of the Finnish Ministry of Employment and the Economy.  Over the years, VTT has gained vast experience from participation and coordination of numerous European projects including R&D Framework. The main tasks in project are leading the lignin depolymerisation to monophenols by catalytic solvolysis and hydrogenolysis and fractionation of depolymerized lignin."
CLIC Innovation is an open innovation cluster with the mission of facilitating creation of breakthrough solutions in bioeconomy, circular economy and energy systems. We are owned by leading international companies and Finnish research organizations committed to create sustainable solutions for the world. CLIC will lead the communication and dissemination activities including the coordination of the planning
as well as implementation phases. As a cluster for especially forest-based bioeconomy, the engagement of the stakeholders from the forest sector is one of the tasks. CLIC will create together with IFAU the concept for roundtable events and also organizes one of the events in Finland.
Process Design Center (PDC) is a technology provider in process development and integration founded in 1987. PDC is an SME based in Breda, Netherlands and has a turnover of approximately 2 MEUR. PDC is a specialist in bio-based process development for the process industry and they are using artificial intelligence in process engineering. PDC`s expertise are conceptual process design, techno-economic evaluation, energy, efficiency and sustainability, benchmarking and development of expert systems. The main tasks in the project are leading WP 5 and process design and optimization of biorefinery process and techno-economic impact assessment.
FUNDITEC is a private non-profit research organization founded in 2003 that provides technological services in the form of an R&D Center in two areas: Advanced Materials and Cybersecurity. The department of Advanced Materials and Processing Technologies in FUNDITEC, is mainly focused on the design and development of new products and new functional materials (catalysts, photocatalysts, coatings, adhesives, printed electrodes, geopolymers, etc) with application in many different key sectors: chemical industry, energy, water treatment, health or agroindustry, In FRACTION project, FUNDITEC is leader of WP4, which is focused on the conversion of organosolv lignin into high added value aromatics and polymers.
The main tasks within this work package will be:
1. the development of a methodology for the catalytic oxidation of the new lignin produced by organosolv process, to generate high added-value products, such as vanillin, veratraldehyde, syringol. A comparative study will be performed between traditional catalytic systems and an emerging type of catalyst based on supported MOFs (Metal Organic Framework) and 2. the valorization of both, organosolv lignin obtained from lignocellulose by CSIC and also the fractions obtained from lignin solvolysis by VTT. For such aim, FUNDITEC will use both types of feedstocks as monomers in the synthesis of lignin-based polyurethane resins for the formulation of coatings and adhesives.
IFAU Institute for Food Studies & Agro Industrial Development is a Danish SME founded in 1982. The core competences of the company lie within business development and commercialisation of products, technologies and services for the agro, food and bio-based sectors. The company has experience in market entry strategies targeted at mature, emerging, and precommercial markets. IFAU is headquartered in Denmark and applies a networked approach to providing business services in Europe and third countries.
IFAU will lead WP6, and the work on exploitation and market uptake of project results and contribute to bridge the gap between research and market.