On June 10, 2022, FRACTION hosted the second of six roundtables, this time in the beautiful town of Schaffhausen in Switzerland.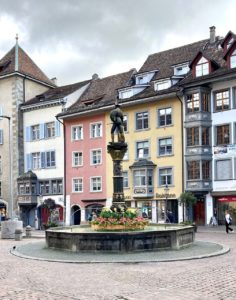 AVA Biochem AG, in collaboration with IFAU, CLIC and CSIC organised the event. The roundtable had nearly 30 participants and centred round the topic: How can we better underpin innovation and knowledge transfer to enhance the bioeconomy – the case of Switzerland. Invited keynote speakers gave their thoughtful insights to the topic and, FRACTION partners contributed to setting the scene.
Dr. Gilbert Anderer (AVA Biochem AG) presented the challenges and opportunities of being a Swiss company and participating in the Horizon Europe program. Access to collaboration with top-standard research institutions and companies in the EU were regarded as very important for a continued development of the Swiss bioeconomy.
Dr. David M. Alonso (CSIC, coordinator of FRACTION) briefly introduced the project including aim, ambition, work and partnership. FRACTION is research-focused project aiming at TRL 4-5 for the fractionation process – the core outcome of the project.
Prof. Dr. Ingo Mayer (Bern University of Applied Sciences) gave an overview of the political context of bioeconomy in Switzerland. It was mentioned that, despite actions plans and strategies for several sectors of relevance to bioeconomy, there is no national strategy targeted at developing the Swiss bioeconomy. A key conclusion of Dr. Mayer's was that there is a high growth potential in biobased pharmaceuticals, food, construction and chemicals, and that woody biomasses are at the centre stage of bioeconomy in Switzerland.
Ms. Dimitra Vlaskou Badra (Swiss Wood Innovation Network S-WIN) enlightened the participants of the important work done by S-WIN to support knowledge transfer, promote partnerships and provide information about innovation in the Swiss bioeconomy. A key strength of the S-WIN is the close collaboration with industry and knowledge providers, so ideas can instantly be assessed for their innovation potential and relevant partnerships formed. The Timber Start-up Incubator (hosted at the Innovation Park Bern) supports wood-based start-ups to underpin entrepreneurship within construction, architecture and biobased products.
Mr. Dominic Schorneck (IC-Infraconsult) addressed the Swiss market for biobased products. The "old bioeconomy" such as food, energy and agriculture show limited growth potential. In contrast, the "new bioeconomy" (chemicals, materials, pharmaceuticals and more) is considered to hold a larger development potential but is currently not as big in volumes as the old bioeconomy. Therefore, Swiss companies apply a specialisation strategy: large volume and less costly end products (e.g., biofuel) or smaller volume and higher prices (e.g., chemicals or new biobased materials).
The closing discussions at the Roundtable agreed that collaboration across sectors and countries; engagement from public and private investors; support for entrepreneurship; diversification (in biomasses, company strategies, products) and, enabling the scaling-up were key topics for enhancing the bioeconomy in Switzerland and the EU.
Karen Hamann, IFAU, karen@ifau.dk